When I first started analyzing the Coinbase website I had a quick look over the site layout and the functionality/attack surface available for potential exploitation. I quickly determined it was running Ruby on Rails based on the encoding of the "_coinbase_session" cookie. This was supported by the fact Coinbase's founder Brian Armstrong had a lot of Ruby snippets on his Github Gist and some more Ruby questions on his Stack Overflow account.
1. Reflected XSS.
Previously I have had some successes finding XSS vulnerabilities in Flash .swf files on some sites. I quickly saw references to a file, https://coinbase.com/flash/ZeroClipboard.swf in the main CSS file. I recalled reading an advisory about this swf file before, but on first tests it did not appear to be exploitable. This .swf file is typically bundled with ZeroClipboard10.swf. In this case it was also uploaded but not referenced. Bingo! We have found a reflected XSS vulnerability on Coinbase with a known vulnerability in third party code (CVE-2013-1808).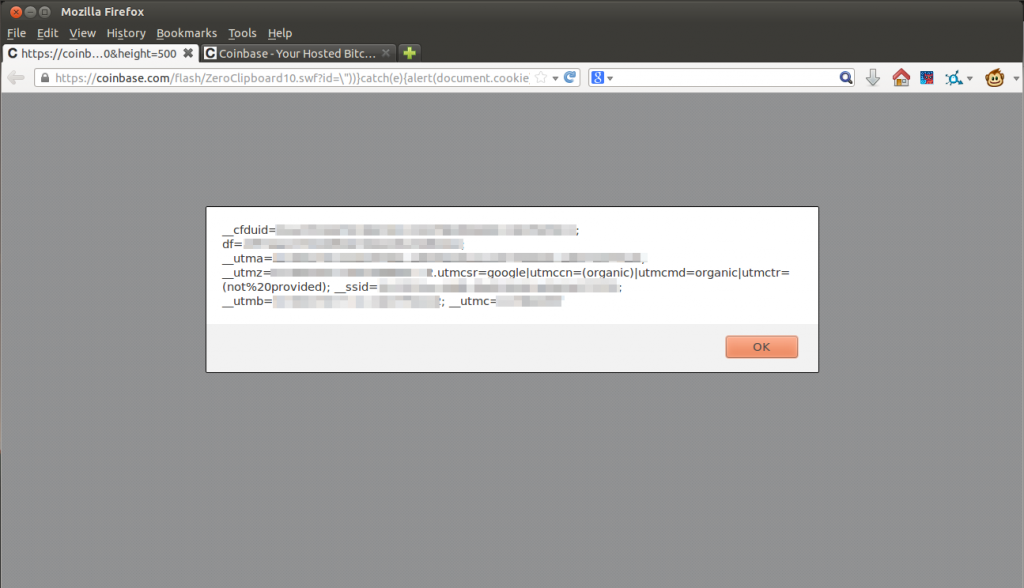 I reported the vulnerability to Coinbase but @Ciaranmak, who referred me to the Coinbase bug bounty program had reported it independently a few hours before. The Coinbase team still sent me 1 BTC for it.